As the cost of education has increased, 11,189 students and their families have fallen in arrears during the Covid-19 pandemic across Ireland. This number was obtained following 33 Freedom of Information (FOI) Act 2014 requests to all third-level institutions in the Republic and the North of Ireland. The responses we received indicate a 67% increase in fee and university-owned rent arrears from 6,678 in 2018-2019 to 11,189 in 2020-2021. Students4Change is sharing these worrying figures and calls for immediate action to organise against this capitalist government and for socialist power.
The data shows that students and their families across the country are struggling, and that supports during the Covid-19 pandemic were not adequate to prevent many from entering into the downward spiral of due arrears. An ILCU study in 2019 surveying students revealed that 24% say finance is their biggest worry, and 74% say they have to work during the academic term to cope with costs. 42% rely on their families to fund their studies [1]. This was only made worse with the pandemic and its financial aftershock, when many lost out on vital income. Such financial troubles risk taking a serious mental and physical toll on students and their families.
We further believe that the debt disproportionately affects medical- and nursing students and those in the arts and design courses where there are many hidden costs including the cost of equipment, materials and renting of studio spaces. The actual figures are also likely to be higher than disclosed, since 4 institutions refused to share university-owned accommodation rent due to the data residing in private subsidiaries which are not subjected to the 2014 FOI Act.
The rent and fee arrears of today are carried onto the graduates' lives as debt in the future, especially when considering skyrocketing accommodation, non-EU and postgraduate fees. In the North of Ireland, a 2022 report indicates that students are leaving university with close to six-figure debts [2], while a 2017 article revealed that in the Republic students owe thousands of euros [3].  A 2016 Union of Students Ireland (USI) survey found that 60% of parents get into debt funding third-level education [4]. 
László Molnárfi, Chairperson of Students4Change, said "The political consciousness of the student movement has been so far to cooperate with the neoliberal coalition. This has miserably failed the students of Ireland. Photo-shoots with Minister Harris or any other politician from the FF/FG/Greens has led to nothing but empty promises from the government. Such actions will not lead to change being made, since being 'respectable' or being in with them will not make them listen to us. While they are preoccupied with stunts, students on-the-ground are struggling as evidenced by the sharp increase in the number of those in fee and rent-related arrears. Instead, we must agitate against the enemies of students, workers and our communities. We are under attack and this must be met with the most severe fightback. Nothing should be off the table – strikes, marches and occupations to realise our demands. We demand free, public and democratic education for all!".
Original data linked here, in the Students4Change FOI database, in the 'Rent and Fee Arrears' folder on Google Drive. Also present in that folder is two Excel analysis sheets and the FOI template we used.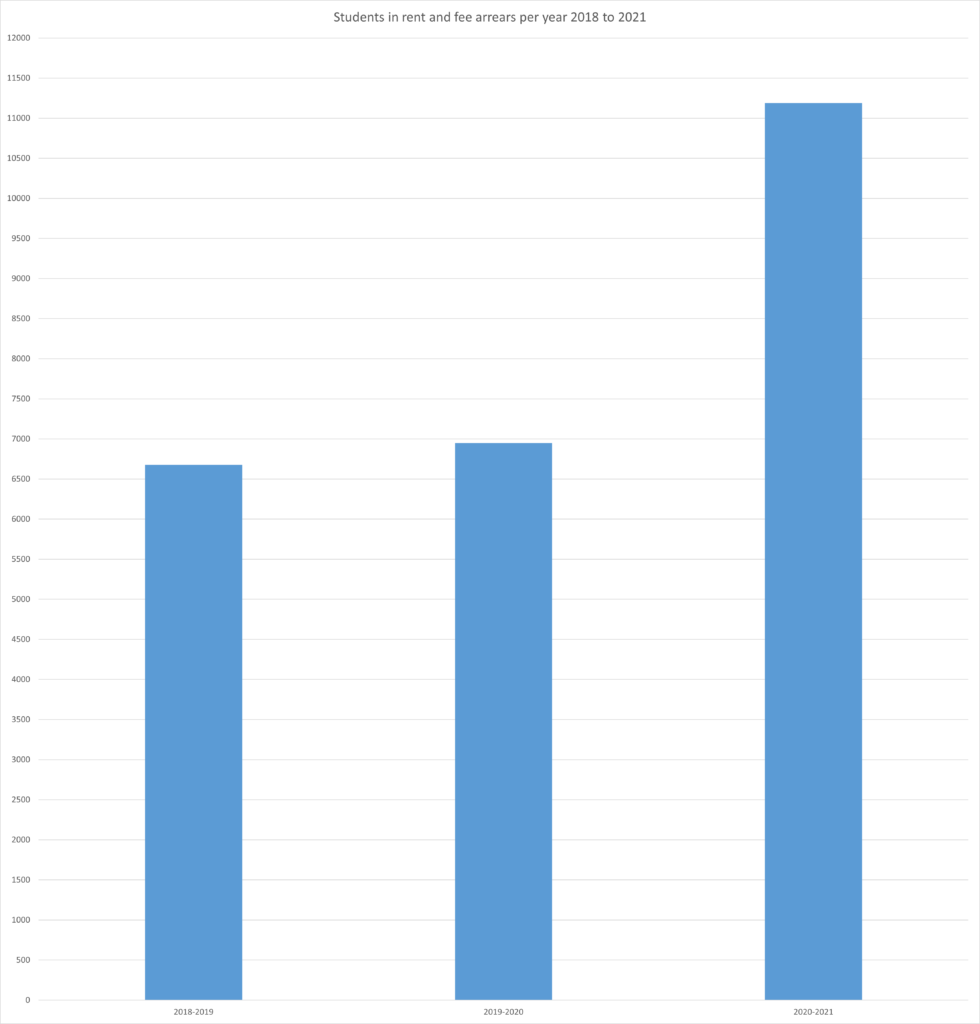 Source(s):
[1] https://www.creditunion.ie/news/latest-news/ilcu-survey-on-college-costs/
[2] https://www.belfasttelegraph.co.uk/news/northern-ireland/northern-ireland-students-burdened-with-debts-of-almost-100k-41540544.html
[3] https://www.irishtimes.com/news/education/universities-owed-thousands-in-unpaid-fees-and-charges-1.2932946
[4] https://usi.ie/education/60-of-parents-get-into-debt-funding-third-level-education/