There is an email circulating with regards to Minister Harris' reply to an amendment about student union autonomy to the HEA Bill 2022, which was rejected.
It was sent to the Union of Students Ireland (USI) and this is an explainer post as to why his reply is not enough to protect student unions.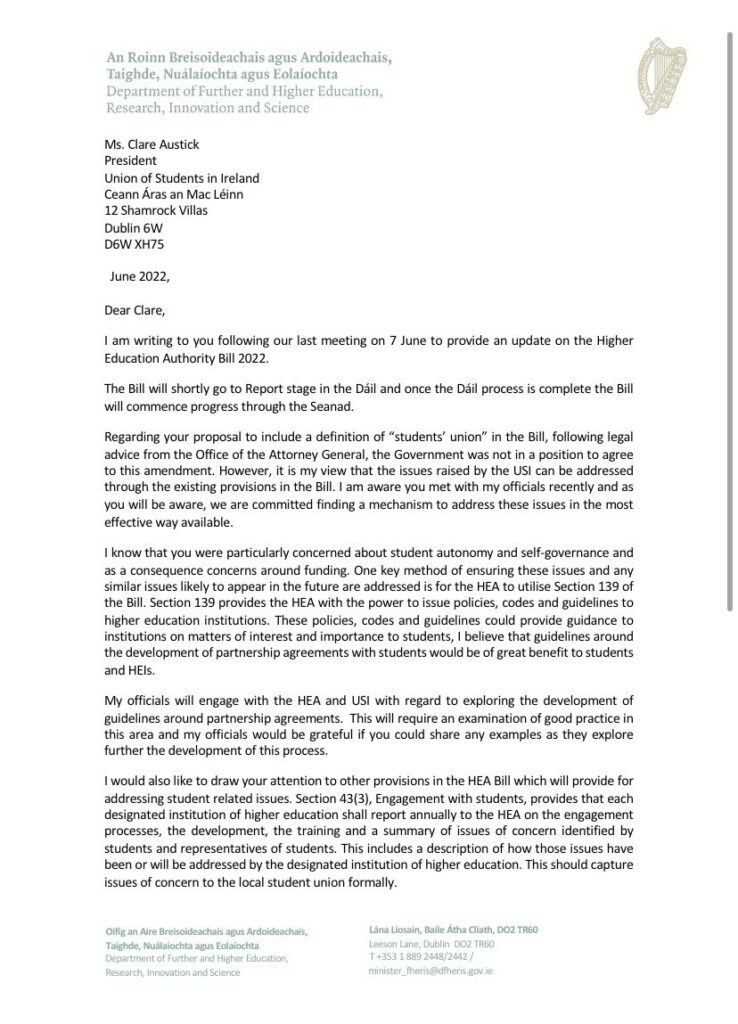 Minister Harris claims that section 139 (in the latest bill section 143) will be used to guarantee student union autonomy, in other words the HEA can use its power to issue "guidelines, codes and policies" for this.
What Minister Harris is saying in this email, is that not only will we take away universities' autonomy with section 139, but student union autonomy will also be at the whim of the Minister-dominated HEA Board. Only one student representative will sit on the aforementioned Board, and if he does not like your student union – tough luck!
This is not in any sort of framework or legislative solution to the idea of student union autonomy, which Minister Harris later admits in the email, saying that "these issues are not directly addressed in the new legislation".
It is furthermore unclear how student unions not affiliated with the USI, like UCDSU, will be able to raise their issues with their universities.
In 2021, NUIGSU had its funding unfairly taken from them over a dispute over a levy collected for services.
After quoting section 139, he claims that the bill has strong student partnership.
Firstly, we would fundamentally reject that any bill which cuts student representation can be considered a partnership. In earlier drafts, over 60% of HEIs would have lost students on governing bodies.
According to latest news, which we welcome, the number of student representatives will be 3, but this is still not the 2-4 we asked for.
Secondly, he mentions that section 8 and 9 provide for equality, diversity and inclusion in higher education, since they make it one of the functions of the HEA Board.
The HEA Board will be appointed by the Minister, and he promised only to have 1 student representative from the USI.
This is a joke. The HEA Board will be dominated by apparathciks of the Minister, while he weakens the student movement and refuses to reduce student fees. It does not make sense how equality will be guaranteed if the voices of those most vulnerable – students, staff and trade unions – are being silenced with the bill on governing bodies.
The implementation of section 8 and 9 under this government will result in the spirit of the law not being followed, since no further procedures or goals are outlined on how to reach this equality. Without a democratic HEA Board, and based on the prior actions of this government, there is no indication that they will implement any substantive equality, inclusivity and diversity initiatives.
Thirdly, he mentions that Section 43 will provide for the training of student representatives on the governing bodies of universities. This does not answer the question of student union autonomy, and furthermore, this sort of training fits well into the service-provider, KPI-centric and neoliberal student union, wherein everything they do has to fit into the labour market and be respectable and professional.
After setting out that Section 44 will provide powers for the HEA Board to consult with student representatives on issues of a national level, he mentions StudentSurvey.ie as an example of a partnership.
StudentSurvey.ie is a corporate survey that pushes a cookie-cutter capitalist logic, and its equivalent the National Student Survey (NSS) is boycotted in the U.K. for corporatizing universities and raising tuition fees.
QQI is also mentioned, which only cares about quality of education insofar as the bottom line, how financially viable the way institutions run their courses is.
This is disgraceful from Minister Harris.
Him and his cabinet, and all the bureaucrats working on this bill, are taking us for fools.
There are 245,000 students in Ireland, and their voting rights will be diminished with the HEA Bill 2022, as over 60% of HEIs will lose student representatives on governing bodies. A democratically elected TD is putting forward legislation into the Oireachtas that is reducing student representation. A minister is asking a democratic parliament to reduce democratic student representation. Bureaucrats wrote the bill, with their bureaucratic reasoning of "efficiency", to reduce governing bodies. But the real bliss of this bill for bureaucrats will be that no more awkward questions will be posed at governing body meetings.
The USI needs to step up, stop being in useless committees and mobilize people. A question is, as such, posed before all our organizations. Will they become radical, or redundant?
#StopHEABill22