According to a Statute modification passed at Trinity's Board on the 16th of November, the TCDSU can be replaced by any other capitated body (e.g. the Central Societies Committee, Trinity Publications and Trinity Sports Union). The power is not in students' hand – Board, dominated by senior management, can do this.
S4C is now revealing this documentation to the public.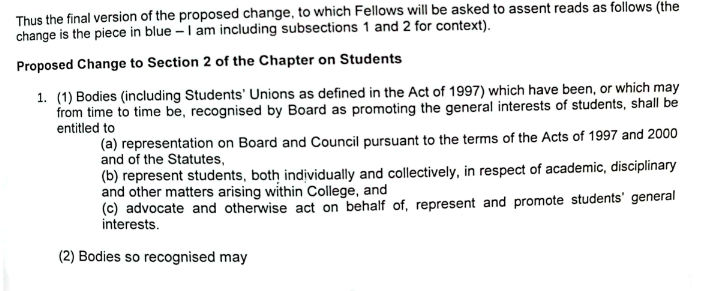 According to the Board minutes, TCDSU dissented to this change. The change still needs the assent of the college Fellows to pass. We condemn this attempt at undermining student democracy and call on the Fellows to not give their assent.
Our press release can be found here.
Explanation of terms:
College board: the highest decision making body of Trinity.
Statutes: the legal documents that describe college regulations.
Fellows: distinguished staff members who play a role in governance and sit on Board.
Capitated Bodies: They are bodies which represent various student interests and received funding through the contribution charge.